Biography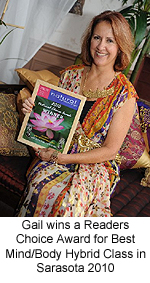 Gail Condrick lives her ideals. She is a communications executive, creative problem solver, teacher, and motivational speaker on wellness issues. With GaelaVisions she is pursuing her passions of teaching Nia, preparing to become one of 44 people in the world to become an International Nia Trainer of the White Belt, the first level of Nia training in 2012, creating personal empowerment weekend retreats for women in transition, teaching Ageless Grace™ and writing.
Gail specializes in developing customized programs and workshops for women's groups, churches, business and government organizations. She brings over 30 years of experience to her classes and workshops.
A television pioneer, she founded a cable television station serving over one million people that has won hundreds of awards for public interest programming and has been named the "Best Government Access Channel" in the U.S. four times. She hosted a monthly TV program on community issues available on cable and the internet.
Gail was selected in a time of turmoil to lead a large multi-disciplinary department with a budget of 32 million dollars and over 100 staff in 2004. Under her leadership and open door policy, the group reogranized and stabilized and many innovative projects in communications and technology were succesfully completed. Most important to Gail was the impact of the human dynamics, as individuals found new ways to work productively and creatively with one another. In March 2007, she resigned from this position to devote all her time to developing her own and others highest potential through NiaVisions, now GaelaVisions.
Gail is also a Black Belt Nia instructor and Next Generation Trainer, who has trained with Debbie and Carlos Rosas, the creators of the Nia Technique. The Black Belt, the highest of the Nia teacher trainings, enables the instructor to be a movement healer and is achieved by less than 10% of Nia instructors.
The instructor, Gail Condrick, brings a spark of energy to the room.
Incorporating her interest in mind/body awareness and communication, Gail became a Reiki Jin Kei Do Master, or Reiki Healing with Wisdom and Compassion, after several years of training. She offers private sessions and classes in Reiki.
Gail is a graduate of CMED, the Caroline Myss Educational Development Institute, and a Sacred Contracts Archetypal Consultant. She has studied with Caroline Myss since 2004 and continues her own explorations while offering workshops and private sessions.
As a freelance writer on environmental issues, Gail is a frequent contributor to the Natural Awakenings publications, available in 85 locations nationally. She also teaches Ageless Grace™ 21-tools for healthy aging and life long flexibility and ease created by her Nia mentor, Denise Medved.
Gail combines her dedication to healing and communications in workshops, classes, and seminars in private sessions and group seminars. She is a frequent motivational speaker at conferences and events.
Niavisions clients include Gannett Publishing, Unity Church of Tustin, National Association of Government Communicators, Lockheed Martin NOVA Volunteers, Y-Me National Breast Cancer Organization of the National Capital Area, Lupus Foundation, Psychiatric-Mental Health Nursing Conference, The Training Connection, Inc., Medical Case Management Convention, Coolfont Resort, Rancho La Puerta Spa, Arlington County Government and Fairfax County Government.
Contact Gail to design a session for yourself or your group.